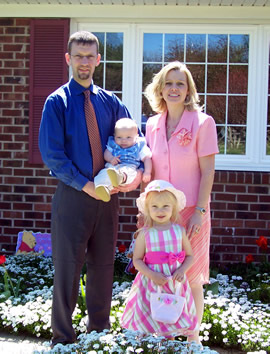 Well it has been awhile since our last update, I kept telling myself that I would do it and just never took the time to sit down and write. With Easter coming up I figured we could show an updated picture of our family and wish everyone a happy Easter. The last time we updated was around Christmas. Christmas went well for us, still different without Chance here, but Chaycen is helping with the healing. Destiny is turning into Chance so much; she is becoming a lot of fun. The 2nd annual Chance Harman Classic was a huge success again thanks to everyone. Next year we are adding at least two more teams and hopefully trying to pull every team from our district into it. I am getting several calls of teams wanting to be involved. We have already set the date for next year; it will be January the 2nd. We are going to try to do it the first Saturday of the New Year, I know looking down the road New Year's falls on that day, so we will have to do something different then.
Basketball season finished up and a couple weeks later we took a two day trip to Myrtle Beach, taking advantage of the cheap prices. They had four indoor water slides, two which we really big and Destiny wasn't afraid of either of them, but I wouldn't let her ride one of them, we will save that for this fall. We had a lot of fun! Also, in February we went to the Monster Truck show in Roanoke, in hopes of seeing Randy Brown (Grave Digger Driver), but he was in a different city that weekend. We still remember the trip with Chance so well.
In March, we lost a good friend, good coach, and a great person in Brenda King. Brenda had got cervical cancer back in November and she fought hard but she finally went on to Heaven to be with her husband Danny which died from cancer a few years ago. They have two children, one is a baseball player at UVA, and the daughter is an 8th grader in Pulaski, I ask if you would please keep these kids and their families in your prayers.
We continue to get up with our good friends Mitch and Jody Reed and the kids from Giles. Destiny loves playing with them and we have a lot of fun talking and spending time with them. I know the night of the Boys Basketball Championship (High School), the wives sent us home with all of the kids while they shopped, we thought this was going to be bad, but the kids played while Mitch and I watch Radford win the State Championship (Congrats Coach Cormany and Radford).
Easter was good, this was the first time I had gotten real upset, but I can remember Chance's last Easter, but because of this day it gives us the hope of seeing him again and that is what puts the smile back on our faces and helps us push on. His stone is to be placed the 23rd of this month, we are just praying that everything looks good on it. We have gotten the scholarships going this year again; we will be paying out $7,500 in scholarships to the four local high schools and sending Duke almost $10,000 for research on Chance's tumor. Destiny starts t-ball this weekend so that will be a lot of fun. We really appreciate all the people that continue to keep up with us; you will never know how much you mean to us. I think back over those 7 months to try to figure out how we made it through it, and the main reason was God, but you guys were next in line with your prayers and support. Two things to finish up with, one is remember my cousin and her new daughter, Kara the new born was born with some complications and Suz has some tough decisions ahead of her. The other one is how great it was to see North Carolina win the National Championship. I will never forget the day that Chance and I were over at the Dean Dome and Tyler had gotten his nose broke and Chance asked me how the guy was that broke his nose, and we both looked up and I said well there he is ask him. Tyler stopped and talked to us for a minute, he will never remember or every know how much that meant to me. What a class act. Till next time, take care and take time to love, kiss, and spend time with those kids and your family.
Thanks for the support,
Brian, Desirae, Destiny, Chaycen, and Angel Chance.