As I looked back to see where I last updated, I started thinking I need to update more often. We have had two good busy months and also I guess you could tell from Destiny's shirt that we are hoping for good times at the end of October – 1 st of November. Desirae is expecting again something we are very thankful for, and it is going to be here around Chance's birthday which would be really neat. I don't think we are going to find out this time what we will be having because we have had a boy and girl so we will be prepared for both
Some of the past months we had some good times and one sad time. We got an opportunity to go and hear Joel Osteen in concert at Greensboro , what an experience, he is such a motivator. That same weekend which was April 19 th , Desirae's birthday we headed down to the North Carolina coast. As I mentioned before we had been praying for little Miss Emily Hollis for a long time. She was with us at Duke, but now she has gone onto Heaven to play with Chance. We got to spend a few hours with her parents, it was good to see them, but I just hated that it had to be for that reason. This brought back a lot of memories, but what her family and Emily did for us we wouldn't have missed this for anything.
As you know back in January we had a basketball tournament in Chance's memory. The money raised from this we gave in scholarships and plan on sending Duke the rest of it. There will be pictures at the bottom of this update showing you the receipitants of his scholarship. We are hoping for bigger and better numbers next year. This year we gave Floyd County High School $3,000.00, Giles County High School $1,500.00, Radford High School $1, 500.00, and Glenvar High School $1,500.00. After talking to Dr G. at Duke we found out that they are researching the type of tumor Chance had, so we will be sending them right at $4,000.00 just for that research.

We gave the first scholarship at Floyd County , after several great applicants the committee narrowed it down to a young lady that is going to Virginia Western Community College and then transfer to Radford University to study psychology. Her name was Ashley Martin, we had never met her, but now we will have a relationship and a tie with her forever. With this scholarship and the other ones we gave a bible, something Chance loved and stood strong for.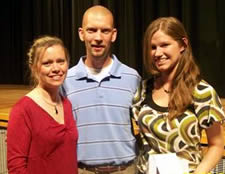 Two weeks later Rick Cormany, boy's basketball coach at Radford high school called and wanted us to come over and present the scholarship at the senior sports awards. Rick was the one that help me come up with the idea to do a memorial tournament. We presented the scholarship there to a member of the boy's basketball team; someone I had seen several times beat us single handedly. His name was Michael McCown, he is going to Emory and Henry to play basketball and baseball, and I am not sure what he will be studying.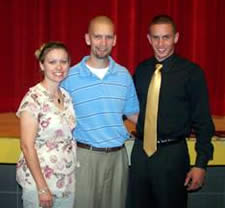 The next week we went over to Giles County to give the scholarship there. It was won by Ben Mullins, Ben played baseball for Giles and was a really good kid that like Chance loved God. Ben will be heading to Virginia Tech this fall. The scholarship at Glenvar was divided between two kids, Chirs Ferguson which is going to Roanoke College to play basketball and Kaitlyn Barnett which is going to Virginia Tech.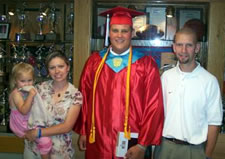 We really enjoyed pass these scholarships out; we know that we are helping the kids to continue their goals and dreams, but what they don't know this helps us. We want people to remember Chance, and this is a way to continue telling his story and to continue to remember how great of a son he was.

We went to Richmond to the race the first week of May, I can remember laying in that hospital bed with Chance last year and watching it. Also, we just got done with our little kids basketball camp and as we were taking the picture of the campers I remember the summer before he got sick he came to camp and was in the picture with me. This year would have been his first basketball camp, but it wasn't meant to be. We have started working on his memorial stone. We miss him so much, Destiny still talks about him daily. Times are hard, but we just keep in mind, that the sun will shine bright again and we will be able to play again one day. We have a full June and into July planned. We are coming up on Desirae and I wedding anniversary, June 17 th , then the one year anniversary of Chance passing away July 6, then my birthday July 13 th . I know the 6 th of July is going to be tough; we are going to be getting back into town that day from a trip to Daytona Beach with some friends. I just want each and every one of you that keep reading our updates, that keep sending well wishes, and that keep praying for us, you will never know how much you mean to us. Without you guys the days would be tougher, we just miss him that is all there is to it. Our life was great and I let some of it slip by, but I can tell you one thing, no more will it happen, I will enjoy everyday until that day I am called up to spend eternity with God and my son, and other family members and friends that have gone on. Thank you again for all that you have done and continue to do. I know I will be mentioning it in future emails, but please keep this baby and Desirae in your prayers and if possible come out and support this tournament that we are going to do in January. We want to keep his memory and keep kids able to fulfill their dreams of going on to school, just think if one of these scholarship winners found the cure for his tumor, or another type of tumor, or cancer, or CF, but it wouldn't be possible without the opportunity. Have a good June and enjoy your vacations, talk to you in July.