the Floyd Press
by Wanda Combs - Editor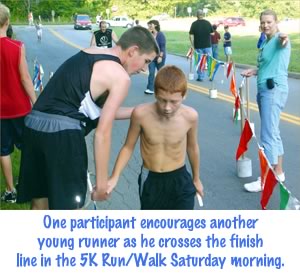 The first 5K Run/Walk drew 127 registrants, and the walk and dinner raised approximately $3,200 in profits. A "community pasta meal" held on Friday in conjunction with the Run/Walk had 90 diners and also contributed to the proceeds, which will be sent to Duke's brain tumor center. 
On Saturday morning, the sun was shining down on the runners and walkers. Dawn Weeks, organizer, said 119 participants actually finished the race. She explained one walker had to return to work, and she guessed others who registered did not show up on race day or just registered to give a donation. 
Weeks added that the turnout was exceptional and "it seemed like people had a good time. A lot won medals that didn't think they would win." 
The Run/Walk, sponsored by the Town of Floyd, took participants on a 3.1 mile loop that started and ended at the high school. 
The goal was to finish within an hour, and everyone did. 
The event also was supported by numerous volunteers, in addition to the Virginia Department of Transportation, the Floyd County Sheriff's Office, and the Rescue Squad. 
Before Glenn Altizer, who had planned the relay route, blew the whistle at the start of the race, Janie Walters sang the national anthem. 
Lynn Baluh, one of the runners, remarked that the race course was "nice and challenging with all the hills" and very good. 
Dove Erich, the female champ, told the Press she came with a determination to win. She was also the first registrant for the 5K event. She lives in Hilliard, Ohio. 
At the medals ceremony after the race, Laura Cantrell, on behalf of all the planners – also including Leon and Annette Hubbard and Rainey and Ann Houston, thanked everyone involved with the event. She added that Duke had also relayed their appreciation. 
Overall male winners were Austin Grubb (first), Andrew Pauley (second), and Jeff Casassa (third). Overall female winners were Dove Erich (first), Lynn Baluh (second), and Rebecca Adcock (third). 

Other female winners were: 

14 years and under: first – Laurel Brooke, second – Mary Houston, third – Grace Cox. 

15-19 years: first – Nicole Snead, second – Brandy Phillips, third – Tempry Goff 

20-24 years: first – Allie Mannon, second – Ann Houston, third – Katie Shryer 

25-29 years: first – Michelle Deel, second – Laura Cantrell, third – Jessi Warren 

30-34 years: first – Annette Hubbard, second – Leigh Carter, third – Ginger Taylor 

35-39 years: first – Gretchen Hitchner, second – Hannah Mann, third – Jeaneen Ingram 

40-44 years: first – Rima Forrest Sulzen, second – Vanessa Clark, third – Jennifer Brooke 
4
5-49 years: first – Judy Bell, second – Janet Harris, third – Regina Cox 

50-54 years: first – Jewel Phillips, second – Brenda Allen, third – Katherine Sowers 

55-59 years: first – Jane Cundiff, second – Wanda Blackwell, third – Anne Harman 

60 and over: first – Margaret Harris, second – Cathy Driscoll, third – Mary Hitchner 

Other male winners were: 

14 years and under: first – Riley St. Pierre, second – Bryce Altizer, third – Will Lane 

15-19 years: first – Cole Conley, second – Gabriel Whitlock, third – John William Houston
25-29 years: first – Jonathan Adcock, second – Tim Lane, third – Travis Cantrell 

30-34 years: first – Jared Gardner, second – Rob Campbell, third – Chris Hewitt 

35-39 years: first – Randy McDaniel, second – David Pluska, third – Teddy Moore 

40-44 years: first – Tom Cosgrave, second – Terry Osborne, third – Leon Hubbard 

45-49 years: first – Bill Freeman, second – John Paul Houston, third – Adolph Turner 

50-54 years: first – Paul Weeks 

55-59 years: first – Ron Rogers, second – Ken Cundiff, third – David Sulzen 

60 and over: first – Steve Huppert, second – Wayne Driscoll, third – John Harris