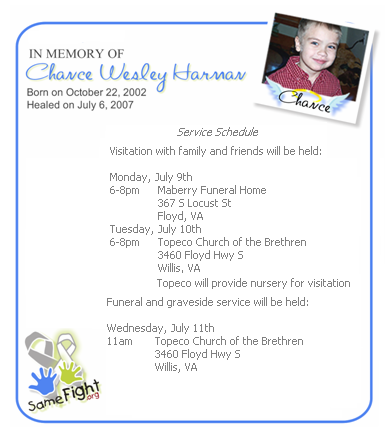 Survivors
Parents
Brian & Desirae Harman
"Sissy"
Destiny Harman
Grandparents
(PopPa & Ganny) Ray & Becky Goff
(Papa & Nana) Allen & Anne Harman
Great-Grandmothers
(Grandma Sally) Sally Goff
(Granny) Margaret Harman
Aunts & Uncles
Blair & Pansy Edwards
Tina & Donald Quesenberry
Sherrie Conner
T.R. & Kelly Goff

Numerous Cousins and Close Friends
Brian, Desirae, Destiny, and the rest of their immediate family, would very much like to meet those who have traveled this journey with them. If you are reading this, then that includes you. This celebration of Chance's life has become very personal to many of you and Brian and Desirae want to make sure each and every one has an opportunity to meet them, hug them and talk with them about how Chance has affected their lives. They are so very proud to have been Chance's parents and to have traveled this road for Christ.
Funeral Services will be spread out over three days to allow for as many visitors as possible.
In lieu of flowers, the family requests donations be made to SameFight.org. A special fund has been established in memory of Chance. The fund has been named "Angel Fund" and the family will use your donations to help others who travel a similar journey. Please note "Angel Fund" on your donation or include it in the notes of Click and Pledge.
Balloons will float to heaven for Chance.
Angel Wish cards will be available at all services. If you would like to send Chance an Angel wish, simply write him a special message and we will attach it to a balloon for release. If you are unable to attend, please email us your wish to info@samefight.org.
PRAISE GOD! CHANCE HAS BEEN HEALED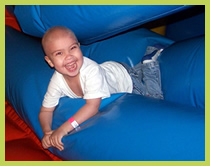 Over the past six months we have all been touched by God through a special little boy named Chance Wesley Harman. He was first diagnosed with AT/RT brain tumors in December. Since then, his fight has inspired his family, friends, strangers and hundreds of thousands of visitors to SameFight.org. He taught us so much about life; simple lessons like how to enjoy each precious moment we have with our friends and family and how important it is to say your prayers. He has shown us that Jesus loves us and wants to take care of us through all of the good and bad times. How precious this little soul was to inspire our community, our county and our website family. We may ask ourselves, "why a child?" Think of it this way, God knew that it would take a child to open our eyes. He knew it would take a child to make such an impact on our spiritual lives.
Brian Harman wrote; "Chance has told us for months on months that God is healing him and recently he kept telling us that God had healed him. Well, today God has completely healed Chance; he went on to be with the Lord today at 12:00. Prayers have been answered, Chance is not suffering anymore. He fought to the very last minute; I am just so thankful that he was our son. Chance has won; he is a winner, now we all have to praise God, live life right to see Chance again one day. Please keep all of our family in your prayers over the next period of time. There are still a lot of kids out here that are fighting for their life, remember them. Don't forget, Chance is healed, he is shooting ball, playing golf, or fishing right now. Can't wait to get there."
What a Day That Will Be
What a day that will be when my Jesus I shall see,
And I look upon His face,
The One who saved me by His grace;
When He takes me by the hand
And leads me through the Promised Land,
What a day, glorious day that will be.
For Chance that glorious day was today. Friday, July 6, 2007 around 12:00pm the Lord called Chance home to be with Him in heaven, a place of no sickness, no pain, and especially no more cancer. I'm sure as many of you read Brian's update this morning you prayed as he requested for peace and comfort. Though Brian, Desirae, Destiny and the rest of the family still need your prayers of peace and comfort Chance no longer does. We can only imagine Chance's reaction as he reached his wonderful destination. Surely he was thrilled as Grandpa Harman, Grandpa Pete and Joshua were there to meet him, but most of all we can only envy his excitement as he met our precious Lord, Jesus Christ. In this time of sorrow we rejoice in the fact that because of the saving grace of Jesus Christ we will see Chance again one day...What a Day That Will Be.
Psalm 28:7
The LORD is my strength and my shield; my heart trusted in him, and I am helped: therefore my heart greatly rejoiceth; and with my song will I praise him.