Great Success
Brian Harman
Chance's Dad
We are pleased to announce that the First Annual Chance Harman Classic raised $10,721.77.
The Chance Harman Classic was a huge success; we are hoping for bigger and better next year. Hopefully the weather will be a little better next year. As of right now the plan is to give a scholarship in Chance's name to a student at Floyd County High School in the amount of $3,000 dollars. Any student that has played a sport at Floyd County High School and has participated in Fellowship of Christian Athletes will be eligible for the scholarship. All they have to do is pick up the application at the guidance office and fill it out then a Board will decide on the recipitant. If something happens and we have two qualified students we may end up dividing the scholarship and giving $1,500 dollars to each. We will also be sending Giles County High School, Radford High School, and Glenvar High School $1,500 dollars for a scholarship in memory of Chance at their school. What is left over will go the The American Cancer Society in the department of pediatric brain cancer, that should be somewhere around $5,000.00 dollars. Our family has been invited to attend Radford High Schools awards ceremony when the scholarship will be presented.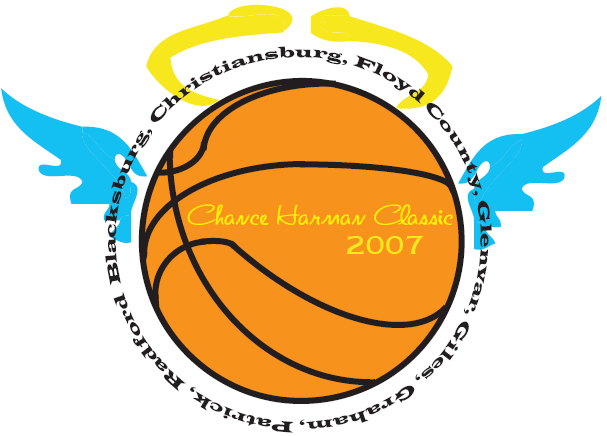 The games were four very good games to watch. One of the coolest things of the Classic was when Giles came out to warm up they had Chance's name on the back of their shoes, then Graham came out, followed by all of the other teams. Coach Rick Cormany from Radford said he wanted to come up with something special so he got with a company in Roanoke Dixie Sporting Goods and they donated the name tags for the tournament. It was a really neat idea and meant a lot to me that the coaches and kids showed the respect to wear them that day. Most every team warmed up with their Classic T-Shirts on and Giles's coaching staff wore them during the game. All of these things are small ideas and small things, but to me they meant more than those guys will ever know. The first on matched up Graham and Giles, in that Graham beat Giles in overtime. The second game Glenvar got a big win against Christiansburg with a single digit victory. The third game had Blacksburg, one of the best teams in Double AA in the state playing Radford, one of the best single A teams in this area. This was a very good game, two teams that really went after it, with Blacksburg pulling away at the end. The last game was Patrick County and us, where it was close till about 4 minutes to go and Patrick pulling away for the win.
We sold several T-Shirts and still have a few Adult L and Adult M if you are interested. If so, just send an email to the information page on Samefight. The barbecue dinner went OK too, we were hoping more numbers, but with everything going to charity any amount is great. I think they served somewhere around 400.