Giving Back
Brian & Desirae Harman
Message from Desirae:

Well, we are starting to give back even more now. I have been praying for God to show me how he wants to work through me. My prayers have been answered. My heart has led me down to giving back to others. Destiny and I prepared Easter baskets to take to the cancer children at Duke. I know a lot of you guys sent Chance things and it made him so happy, even if it was just a card. I know how the parents feel if they canít leave the hospital to get their child something for a Holiday.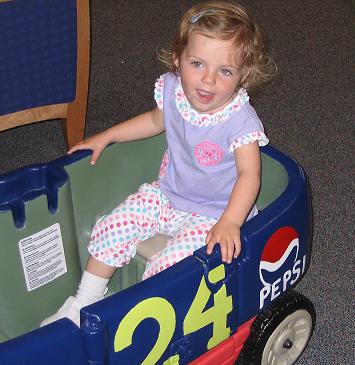 So we decided to deliver baskets to the hospital to relieve some of the stress off the parents. Destiny and I made several baskets for the children and we delivered the baskets to the children the Friday before Easter. Destiny loved to help put the goodies in them. She tells everyone she giving them to sick kids like Bubba was.
We also delivered painted wagons in memory of Chance with cartoons characters on them and donated them to the childrenís wing at Duke and other hospitals. Laura Cantrell's dad, Coach Pratt, had his classroom paint them for us. Chance loved the wagons he got to ride in for appointments across the hospital; it was one of the highlights going to visits. It helped make the visit all better. We bought a few wagons and then others were donated. We were so excited that they were finally finished and we were able to deliver them to the hospitals for the children. As you can see in the photo's, the children loved the wagons. I have a lot planned and in the works right now, but keep checking our updates. May God continue to bless you and enjoy each and every moment with your loved ones.
Message from Brian:
The Friday before Easter we had collected Easter baskets to take down to the children. Several people in Floyd stepped up to the plate again for this. We ended up getting 93 Easter Baskets to take down to Duke. This was the first time we had been back since July 6, 2007. We had so many baskets that we had to take two vehicles. Desirae, Destiny, my mom, Desiraeís Dad, and I all went. The car seemed to drive itself, so many memories of different locations. From the good memories, to the gas station where we found out that the cancer had progressed, a lot of things we were glad to remember, but once again there were several we would like to forget. We met our favorite nurse, Bridget, it was her off day, but she took time to go with us over to the hospital. The first stop was taking the tram over to Radiation that we had done so many times, especially on weekends when no one was there. We saw Eileen, one of his nurses and two of the radiation doctors that he loved to play jokes on. After leaving there we took the same walk that we did twice each week back over to the tram to take it back to the clinic. From there we went up and visited the nurses that had taken care of us day in and day out. Let me tell you a story of how small a world this is. I was talking to one of our nurses and she said that she was at a party with a friend a few months ago. Her friend was friends with the person that was throwing the party. She told me that she began speaking with a friendly random lady. The more she talked; she found out that this lady was a nurse as well in Denver, Co.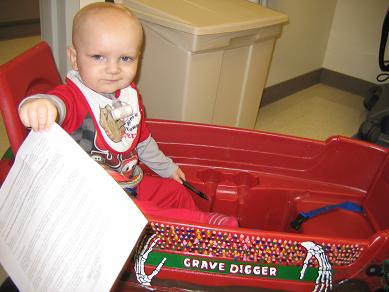 She was at the party with her boyfriend who was with another friend. She told her that she was a nurse at Duke; the lady said that he boyfriend had a cousin that had a son at Duke. Come to find out, the lady was my cousinís girlfriend and they just happen to be in that weekend from Denver and were at the same party in Raleigh, NC. Small World! Well after spending time with them we went over to see Dr G., Chanceís doctor, and a couple of the child specialists. All of them were so nice, and it was really good to see them all. They just kept saying,"I wished we could have done more," but that is one thing that no one can say they didnít do. Everyone did all they could do for Chance. We did everything that we could, it just wasnít meant to be, this was Godís will. Next we went up to the floor to hand out the baskets, we ran into several nurses that we had spent so much of our life with. One in particular that we saw was Mrs. Charlotte, she was there for us through the rough days, and she will never know how much she meant to us. That was probably the hardest part of the day, especially as I walked by the room which was the last one he was ever in. That was a very tough, but still it was a very special day for us. Like I said before, Floyd and the surrounding communities, stepped up again by making the day special for kids at Duke and making it easier for our return back. The last stop we made was back to radiation, we had missed one nurse that we wanted to see. As I peeked around the corner she waved, but she had no clue who I was. It had been over a year and I had shaved my hair; but after seeing Desirae, she came over and we had a great reunion. Everyone all day was so excited to see Destiny. Before we left we had to see Dr. Grant (Chance called him the Pizza Doctor), he really loved this guy. He was our surgeon and the one who had to tell us that there wasnít anymore that they could do. I will never forget this man as long as I live, how can we say someone that had to tell us that information would hold a special place in our heart, that is weird, but we cherish him and his friendship. He came out of OR, just to sit down and talk to us for about twenty minutes. As we sat there, he just kept saying how Chance had touched him and several of the nurses that he had talked to. This made our trip easier. Why? Because they hadnít forgotten him, his love and personality still lives on, not just in our lives, but in theirs. Chance had a anesteologist that he loved, Dr. Ames. As we sat there, he just happened to be working with Dr. Grant that day. We had a chance to tell him how much he meant to us and to Chance. God worked in a great way that day, the Friday before Easter.