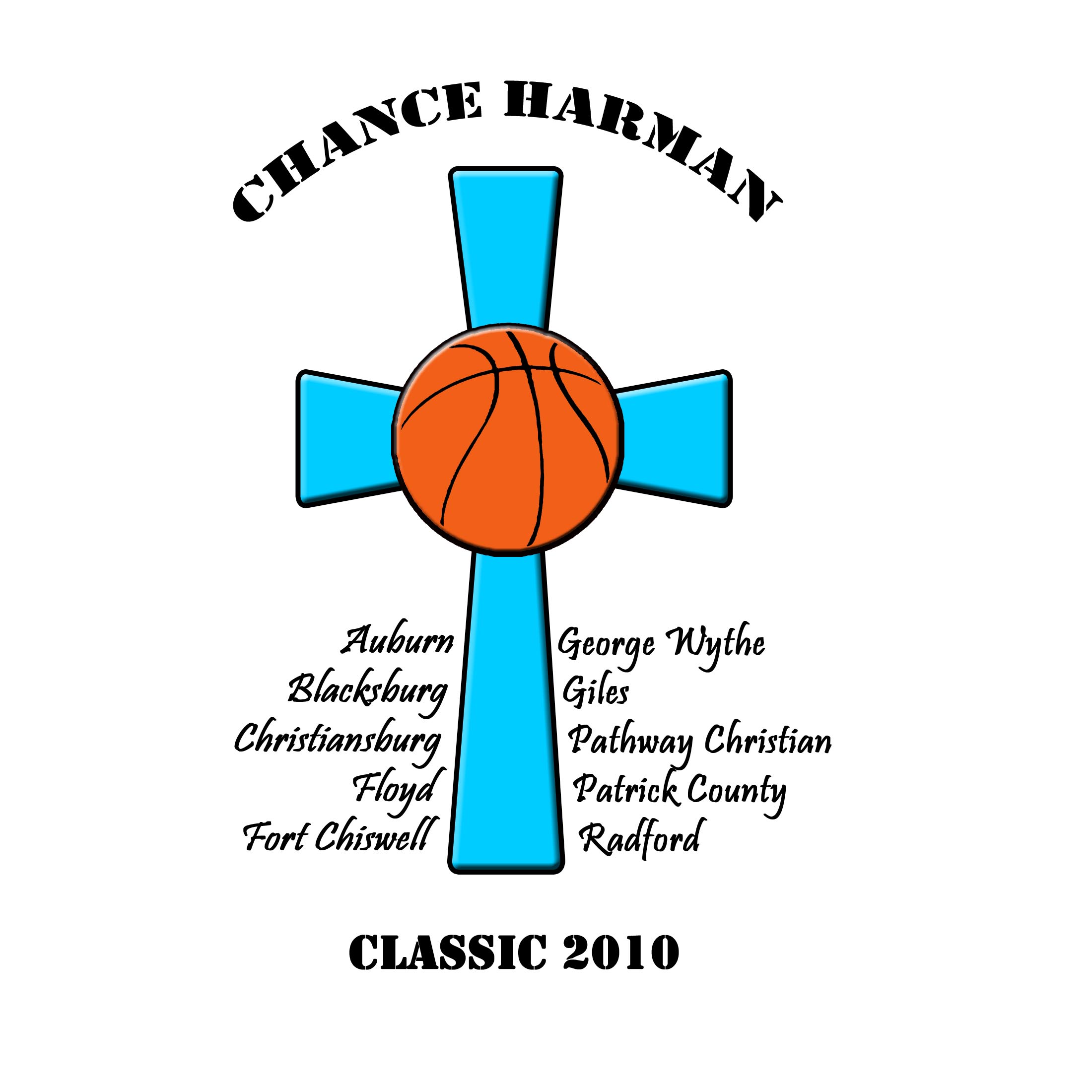 The Harman Family would like to invite you to the 3rd Annual Chance Harman Classic.
January 2nd ...you gotta be there!  
Concessions will be available and a special BBQ dinner is planned from 2pm to 8:30pm.  Dinner includes Woodland's North Carolina chopped pork and BBQ chicken plate with rolls, cole slaw, baked beans, chips, homemade dessert and drink. *Take outs are available* Cost is $7 for adults and children. All proceeds will benefit the American Cancer Society as well as fund a local scholarship in memory of Chance Harman. 
1:00 pm   Pathway Christian vs. Auburn
2:45 pm   Patrick Co. vs. Christiansburg 
4:30 pm   George Wythe vs. Giles
6:15 pm   Blacksburg vs. Radford
8:00 pm   Fort Chiswell vs. Floyd
Game admission is $5.  

 
If you would like to volunteer please email bharman@swva.net
---
Sponsors
Special thanks to our sponsors! Without them, this wouldn't be possible. 
 NBA $500.00 +
Pete Hilton
Bill Crowson
NCAA $200 - $499.99
Keene Carriers
Thompson & Griffin
Somthing To Do
Via's Truck & Tractor Repair
Carolina Eastern
Floyd Express
George Slusher
Vickie's Income Tax
Pasture Management Systems
Harris Construction
Turman Log Homes
Pine Ridge Nursery
High School  up to $199.99 
Curtis Nolen
Jessie Cox
Celco Federal Credit Union
Bobby Kessinger
Floyd Automotive Supply
Dave Moorhead
J P Miller Properties
Profitt & Schroeder, Attorneys
Harvey Chrysler Dodge Jeep
Reed Construction
Doors & More
Blackberry Mulch
MM Trophey & Plaques
David Woody
Michael Smith
Shear Elegance Salon
Blue Ridge Wood Preserving
Dirk Davis
Stuart Concrete
Smith's Grocery & Hardware
Jeff Wright
David Blevins
Scruggs Equipment
David Quesenberry
Maberry Funeral Home
Rocky Mount Supply
County Records
Pam Snead
Floyd Pharmacy
Larry Hand
Quesenberry Grading & Hauling
Spencers Body Shop
Blue Ridge Restaurant
Howard Conduff
Alum Ridge Auto Repair
Al Prillaman
G&B Auto Parts
Pembroke Auto Service
Bank of Floyd
The Bread Basket
Associated Citizens Employees
Slaughter's Supermarket
BB Construction
Staples
Vicky Wade
Pepsi
Floyd Jewelry
Floyd County Boosters
Staples
Allen Elsea
Mary Ann Yow
For questions or comments, or if you would like to be a sponsor, please contact:

Brian Harman
Boys Varsity Basketball Coach, Floyd County High School
C.W. Harman & Son   540-745-2252 - W
or 540-789-4939 - H or 540-230-7746 - C